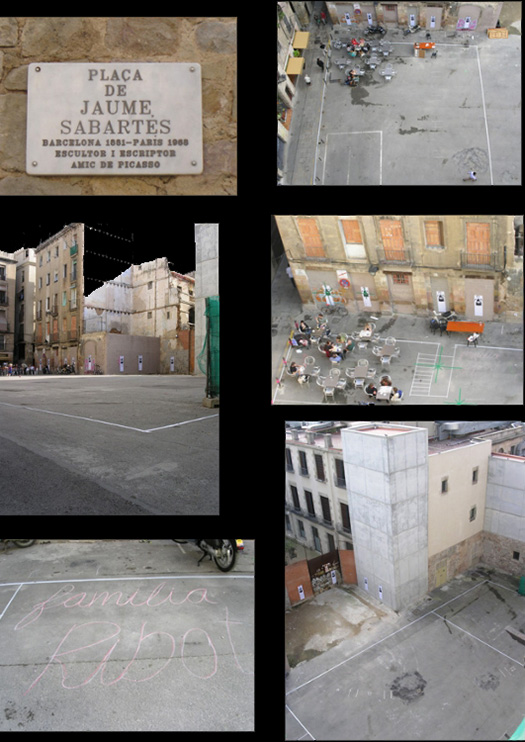 Project Jaume Sabartes, 2005
(with rosa mesa) (www)

This project was done in Ciutat Vella, a centric neighboourhood in Barcelona and it has its starting point in the exploration of the memory and its meaning in the context of a very centric neighbourhood, transformated in the recent years by inmigration and tourism.

Through doing some interviews we found out that there was a project of remodelation, in a square, la Plaça Jaume Sabartes, as a project that has its origin in a desire to extend the Museo Picasso. This urbanistic planning that began in 1996 with the expropiation of the buildings that were in that square is still affecting the neighbours, with such a long process that for many of them it is difficult to keep track. We decided then to present in an intervention of 24 hours, the recent memory of the buildings that were expropiated, with the names of the families that lived in those buildings, marking on the floor the plans of the houses and adjudicating them the names of the families who inhabitated them, through maps we found in the City Hall and through the testimony of some of the old neighbours that stayed in the neighbourhood after the expropiation. In the afternoon of that same day and after marking the recent memory we designed on the floor the new plan appoved by the City Hal.l After we finalized it we talked to the neighbours and public in general presenting them with an opportunity to write, draw, or be recorded giving ideas for the new plan in the plaza. All this information was published in the web as part of the III International Games of Efimeral Art in Barcelona and published in Argentina, Brasil, Colombia, Italia and Spain.